Local Band Network Member Since: August 13, 2004 Last Update: July 20, 2010
Average rating:

(2 votes) Vote now!


Last Vote:
See all votes

| | |
| --- | --- |
| Date: | 10/9/2007 |
| UserName: | kaw972 |
| Vote: | |
| Comments: | |
Music types: Metal, Metal
Description:
At No End rose from the streets of Cleveland in January 2004 with the meeting of Jack Sabolich (vocals) and Tommy Packard (guitar) through a mutual friend. During that first meeting the vision for the band was set; create a unique brand of metal laced with rhythmic hooks and a hardcore work ethic, mentality, and attitude. That vision helped them to rise within both the Cleveland hardcore and metal scenes and foster a reputation as one of the hardest working bands on the scene. The intensity of the music along with the high-energy live performances earned them opening slots for many of the metal and hardcore greats from all over the globe. After just three short months of shows at such legendary Cleveland venues like Peabody's Downunder, The Cleveland Agora, and The Plain Dealer Pavilion, At No End caught the eye of Steve Felton (aka Skinny) from Mushroomhead who agreed to record a 5-song demo for them. In June of 2004, At No End entered Filthy Hands Studios to lay down five tracks that would pave the way for what was to come.

With demo in hand, At No End pushed their boundaries even further, gaining radio play, live performances, and on-air interviews on both college and commercial stations throughout northeast Ohio. While local radio helped to further increase the Cleveland fan base, taking the show out on a regional level proved that success could be had outside of northeast Ohio. Consistently traveling to the smaller towns that most bands would ignore, At No End began to develop a loyal fan base throughout the state proving that the hardcore mentality exists all over, regardless of population. It was this support from radio and the drive to blatantly self promote outside of northeast Ohio that landed At No End in the pages of the Garry Sharpe-Young book New Wave Of American Heavy Metal.

October 2005 saw the addition of Don Forrester on bass and backing vocals helping to further solidify the band mentally and musically and make them a tighter unit than ever before. After a few headlining shows introducing the new lineup and new material, it was time to record their long anticipated first full-length release. At No End entered Conquistador Studios in January 2006 to team up with Cole Martinez (Years Of Fire) to co-produce nine tracks that were to become the self released Building The Rebellion.

Released in July 2006, Building The Rebellion captured the raw aggression of their live shows, while lyrically defining what the band was about. While touching on such issues as the taking away of personal freedoms, war, and just the everyday struggles and injustices that the common person faces; it is the fight, determination and perseverance needed to turn those struggles into personal triumphs that is the main focus. With the support of the local radio stations and an increasing fan base, Building The Rebellion earned At No End a nomination for the Cleveland Free Times Music Award for Best Metal Band of 2006.

In 2010, Don Forrester left the band to take care of personal matters. Jason Chamberlain (Shatter Messiah) was called in to fill the void on bass. The band then inked a distro deal with TMR to release their second full-length, Urban Holocaust, set to be in-stores September 2010!

The Urban Holocaust Has Begun.


Band Members:
Jack Sabolich (Vocals) Tom Packard (Guitar) Steve Shalaty (Drums) Jason Chamberlain (Bass/Vocals)
Latest News:
Urban Holocaust coming in September 2010!

Until then, you can still purchase At No End's first full-length release, BUILDING THE REBELLION online!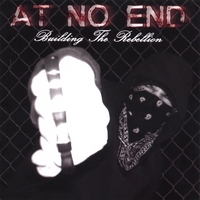 All forms of payment accepted and samples of all tracks available.
For more information on the band and to see upcoming shows, visit: http://www.atnoend.net
Become a part of The Rebellion!